Skid Steer Attachments
Contact us for more information.
The powerful Earth Auger drive units are durable enough to withstand any construction or utility use in even the toughest ground conditions. These planetary drive units produce high torque at low speeds and offer reverse rotation for cleaning of the hole.
▪️Planetary gear drive for lower maintenance costs
▪️Available in 2", 2.5" hex, or 2-9/16" round drive shafts
▪️Drills vertical or angled holes
▪️Self-Cleaning
Xtreme Push™ - Snow Pusher
This Snow Pusher is designed to move a large volume of snow very quickly – up to five times faster than a conventional snow blade. The perfect way to remove snow from parking lots, driveways, and from up against buildings utilizing the optional "Pull Back" system. The universal quick attach system fits most skid steers and compact tractors.
▪️37" high side panels
▪️Strong, high-carbon steel cutting edge for long life
▪️Features the Quick Attach mounting system for fast, easy hook-up
▪️Easy adjust depth shoes
▪️Optional "pull back" scraper blade turns pusher into a "scraper" for more versatility
▪️Tubular steel frame for added strength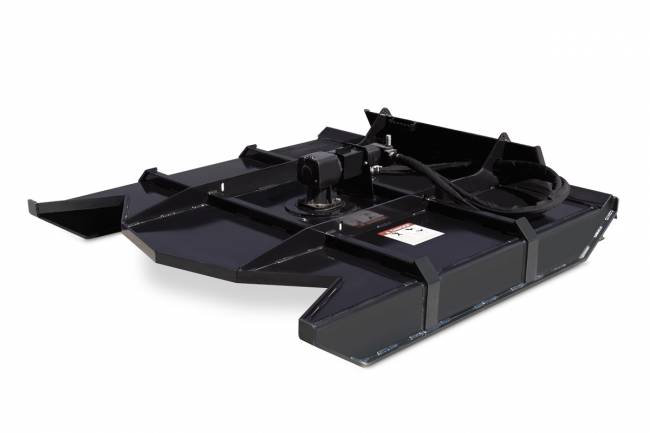 EZ Mow™ - Utility Brush Mower
This rigid brush mower makes mowing easy with its durable, yet lightweight design. The 60" and 72" models are able to withstand the rigors of property maintenance with their respective 7 gauge and 1/4" steel decks. Small trees, brush, weeds and grass are all on the menu for this hungry mower.
▪️Lightweight yet durable
▪️Cut, clear and mulch unwanted brush, thickets, grass and saplings up to 3" in diameter
▪️Break new trails, clear ditches, construction, property sites, and other overgrown areas
EZ Claw™ - Utility Grapple Rake
The Utility Grapple Rake is a versatile tool for handling debris including logs, brush, rock and concrete. The high-strength steel is built for rigorous use and the 48" opening will accommodate most any material you want to pick up.
▪️1/2" Grade 50 high-strength
▪️2 - 3,000 lb. hydraulic cylinders
▪️Opens to 48"
▪️Curved teeth allow the grapple to glide over the ground, raking and cleaning the surface without damaging it
▪️Clear brush, pick rocks and mulch
▪️Raking and piling, storm cleanup, demolition
▪️Grapple encloses entirely and secures debris
▪️Excellent for back or rake dragging
Quick Scrape-n-Grab™ - Grapple Bucket
The Grapple Bucket is a wonderful tool for moving all sorts of material and earth. Sand, dirt, rocks, mud, brush, logs, there's really nothing that this grapple bucket can't move. Two independent heavy-duty grapples powered by 3,000 lb. hydraulic cylinders secure uneven and odd shaped loads. Simply a great all around attachment for almost any job.
▪️Heavy-Duty tool moves difficult to handle material, such as scrap and waste, quickly and easily
▪️Constructed of 1/2" high-strength steel and 7 gauge material
▪️2 - 3,000 lb. cylinders
Big Scrape-n-Grab™ - High Capacity Grapple Bucket
The High Capacity Grapple Bucket was engineered to be your farm workhorse. Easily load and transport large, round bales or use for routine hauling.
▪️Four tines to secure your load
▪️2 - 3,000 lb. hydraulic cylinders
▪️Slender tines preserve bale integrity
▪️Three model sizes available
▪️Transport large, round bales